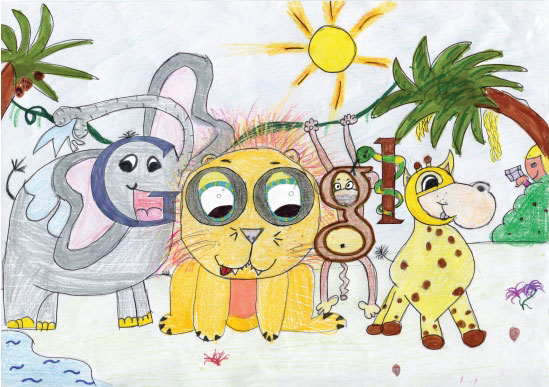 Dublin student Kelly McCabe from Scoil Carmel Junior National School was named the overall winner of the sixth annual Doodle 4 Google competition. Beating off tough competition from 74 regional finalists, Kelly's winning doodle will now be seen by millions of users when it appears on the Google Ireland homepage this Wednesday March 26th.
Eight year old Kelly was presented with her award at a special prize-giving ceremony in Google's EMEA headquarters in Dublin today by professional Google doodler, Katy Wu. Katy travelled from Google's offices in Mountain View to present Kelly with her prizes including a Chromebook and a €5,000 scholarship towards her further studies. Kelly's school, in Firhouse, Dublin, will also receive a €10,000 technology grant from Google with her teacher, Ms. Teresa Lea, also winning a Chromebook.
The theme of this year's event was 'My Adventure'. Kelly's winning doodle, entitled 'My Adventure in the Jungle', was inspired by the jungle and used animals such as elephants, lions and snakes to give the iconic Google logo a creative twist. Describing her doodle, Kelly said "The jungle is where you can find lots of exciting things, just like Google."
Speaking at the ceremony, professional Google doodler Katy Wu said:
"This is my first year to judge the Doodle 4 Google competition and I was blown away by the talent and creativity shown by the entries; it was a tough job trying to choose an overall winner. Kelly's doodle stood out to me with its fun design and bright colours."
"What I was also impressed by was the level of enthusiasm for the competition in Ireland. We run Doodle 4 Google in many countries across the world but number and quality of the entries from Irish students was outstanding."
John Herlihy, head of Google in Ireland said:
"This is the sixth year of the competition and I continue to be overwhelmed each year by the level of public interest shown. This year we recorded over 120,000 public votes from people voting for their favourite doodle. I would like to express a big thank you to those that voted, the teachers and parents involved, and most especially the 2,390 students who entered."
Kelly, alongside the 74 other finalists were invited to Google for a special fun day and prize-giving to celebrate their achievements taking part in a doodle workshop with professional doodler Katy Wu.
A panel of judges including Ciara O'Shea, Marketing Manager of Dublin Children's Museum, Imaginosity, Irish artist Christine Crotty of The Swan Academy of Art, Design and Digital, famed for her Illustrated Pictorial Maps of Irish Walled Towns, and Jim Fitzpatrick, legendary Irish artist and creator of the iconic red and black 1968 Che Guevara poster, chose the 75 finalists for the public vote. Over 120,000 votes were registered with the highest number of votes in each class group making it through to the overall finals. From these five group winners, Katy Wu selected Kelly as the overall winner.
The four other group winners in the Doodle 4 Google competition are:
Class Group 1 (Ages 4-6) – Cian Mangan from Cloghan's Hill National School, Tuam, Co. Galway
Class Group 3 (Ages 9-12) – Emma Doyle from Ballyduff National School, Camolin, Co. Wexford
Class Group 4 (Ages 13-15) – Naiara Abad Sanchez from Carndonagh Community School, Carndonagh, Co. Donegal
Class Group 5 (Ages 16-18) – Oisín O'Byrne from Ashbourne Community School, Ashbourne, Co. Meath