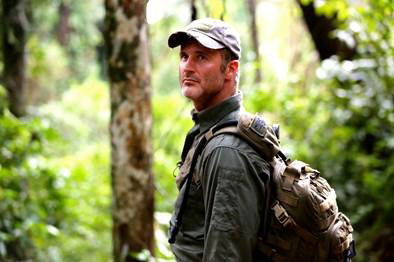 Ex-Navy SEAL Joel Lambert is pitted up against the world's most elite tracking teams for Discovery Channel's brand new six-part documentary series, Manhunt.
The series sees Lambert, armed with only a basic survival kit and canteen of water, take on a 48-hour challenge to reach a pre-determined extraction point whilst being pursued by tracking units across some of the most remote and exotic locations on Earth.
In the series, Lambert attempts to evade capture using diversionary tactics and survival techniques against the elite fugitive-hunters including the U.S. Army Phantom Recon in Arizona, the South African International Anti-Poaching Foundation (IAPF) and the South Korean National Police SWAT unit. Each scenario pits Lambert against what appears to be insurmountable odds; will his training, skill and cunning be enough to help him escape?
Lambert was raised in Washington State in a small logging town on the Columbia River. In 1998, Lambert joined the Navy and made it through BUD/S, the brutal and gruelling selection course for the SEAL Teams. In his 10 years in the military, he proudly earned distinction and experienced combat in places like Kosovo and Afghanistan. From his experience as a US Navy SEAL, Lambert is highly skilled and relishes the thrill of testing his limits, continually seeking new ventures to challenge himself.
Amongst a number of death-defying challenges, Lambert attempts to outwit the U.S Army's Phantom Recon unit across 75,000 acres of harsh bear-filled terrain in southern Arizona and uses misleading tactics to try and outwit the South Korean KNP Swat unit in a heavily populated urban evasion. Evading Poland's elite border guard, the Straz Graniczna, Lambert is forced to pull out all his deception tactics, make his way down a 70 foot cliff, and risking a daring truck ride to try and save himself. When pitted up against the International Anti-Poaching Foundation in South Africa, the Philippines' Army Scout Rangers and SENAFRONT in Panama, Lambert is up against not just the booby traps laid out by the forces but also a range of deadly animals including lions, leopards and rhinos and exhausting heat, threatening not just the success of the hunt, but everyone's safety.
The series offers a fantastic insight into the skill and technique needed to evade capture in precarious or combat situations as well as the methods used by elite special forces in tracking down their targets. In Manhunt, Lambert's reputation and the trackers' national pride are at stake in this real-life game of cat and mouse.
Manhunt airs on Discovery Channel, from Thursday 13th February at 9pm.